IVANHOE SEA SAFARIS, GANSBAAI
Ivanhoe Sea Safaris offers boat based whale watching on the Whale Coast, Western Cape, South Africa
Ivanhoe Sea Safaris is regarded as one the leading boat-based whale watching companies in South Africa, we operate just a 2 hour drive from Cape Town near the whale capital of the world Hermanus and launch from the quaint fishing harbour of Gansbaai.
Here you find the true gem of South Africa's whale watching off the cliff of De Kelders, as well as us the original pioneers of the industry in South Africa. We also boast one of the limited whale watching permits allocated country wide. We specialize in Boat Based Whale Watching and we pride ourselves in offering a uniquely personalized service to all our clients.
We operate in Area 6 of Walker Bay which is celebrated as the best location from which to view the magnificent Southern Right Whales. Our guests are looked after in lavish style by our fully qualified, proficient and registered whale guides whose only duty is to make your trip as memorable as possible. The safety of our guests is paramount and we have all-encompassing public liability insurance.
BOAT BASED WHALE WATCHING:
A typical trip will have you exploring our magnificent coastline and bay while looking for whales, dolphins, sharks, seals and seabirds. Apart from the Southern Right Whales, we are able to view Brides Whales, Humpback Whales and possibly even Great White Sharks.There are many Cape Fur Seals, African Penguins, Dolphins, Sunfish and plenty of coastal marine birds to been seen whilst out at sea.
Before each trip, a brief, informative talk is given on what animals to look out for and the route we will be taking. Each passenger is fitted with a reliable life jacket to ensure safety. On each trip, we drink a toast to "Our Whales" in iced water. We launch from the fishing harbour of Gansbaai and travel along the Cliffs of De Kelders towards the Plaat beach.
We want our guest to have a fun yet educational experience. All trips have proficient marine guides on board to answer your questions and share their vast knowledge of the ocean and its creatures with you. Our objective is to adhere to responsible tourism guidelines and the emphasis of all our trips is on the conservation and welfare of these magnificent animals. We offer unique trips that give you the ability to observe some of the ocean's biggest and enigmatic inhabitants in their natural surroundings.
THE TRIPS WE OFFER:
In Whale Season
Whale Watching Trips - (June To December)
Our whale watching trips take place from June to December however, should the whales change their migration schedule (arrive early and leave later) we will adjust our schedule accordingly. Generally the trip last 2 hrs, but can be longer depending on how quickly we find the whales.
At the start of the season we launch twice daily at 10am and 1pm, in main season (Aug-Sep-Oct) we put on an extra trip in the morning with a 7am launch and then from September on-wards an extra trip in the afternoon either 3:30pm or if a good sunset is forecasted a trip at 5pm. The 5pm trip is truly a magnificent experience watching the whales bask in the shallow waters as well as experiencing a stunning Walker Bay sunset.
Out Of Whale Season
Sunset Cruises with complimentary cheese and wine tasting
Eco Safaris - 10am and 1pm - Targeting Walker Bay's Marine 5
Trips to Danger Point to find the resident Brydes Whales
Marine Bird Watching Cruises
"THE IVANHOE":
Queen Of The SA Whale Watching Fleet
The Ivanhoe is a 42 ft. catamaran, which was specifically designed and custom-built for whale watching. Our extensive experience gained from over 6000 close encounters with our majestic whales was our inspiration for the design of the Ivanhoe. The most experienced whale skipper in South Africa specifically designed the "Ivanhoe" to provide an exceptionally safe and stable vessel from which to view whales.
From the Ivanhoe our guests have an unobstructed view of the whales and our guests will never get wet – even in inclement weather conditions. While the Ivanhoe is capable of carrying 40 passengers comfortably, for the indulgence of our guests, we limit passengers to 25 for every trip. This means that all our passengers can be seated at all times making the trip far more pleasurable.
The Ivanhoe is extremely comfortable, dry and most importantly stable. Our guests have the advantage of looking down at the whales from the upper viewing bridge, giving them a great perspective. Other amenities specifically designed with the guest's pleasure in mind are large, dry cabins on the lower deck as well as toilet facilities. The Ivanhoe is equipped with two 4-stroke 250hp petrol engines that make the trip exceptionally quiet and pollution free.
WHALE & SHARK COMBO:
Click on the image for a larger view: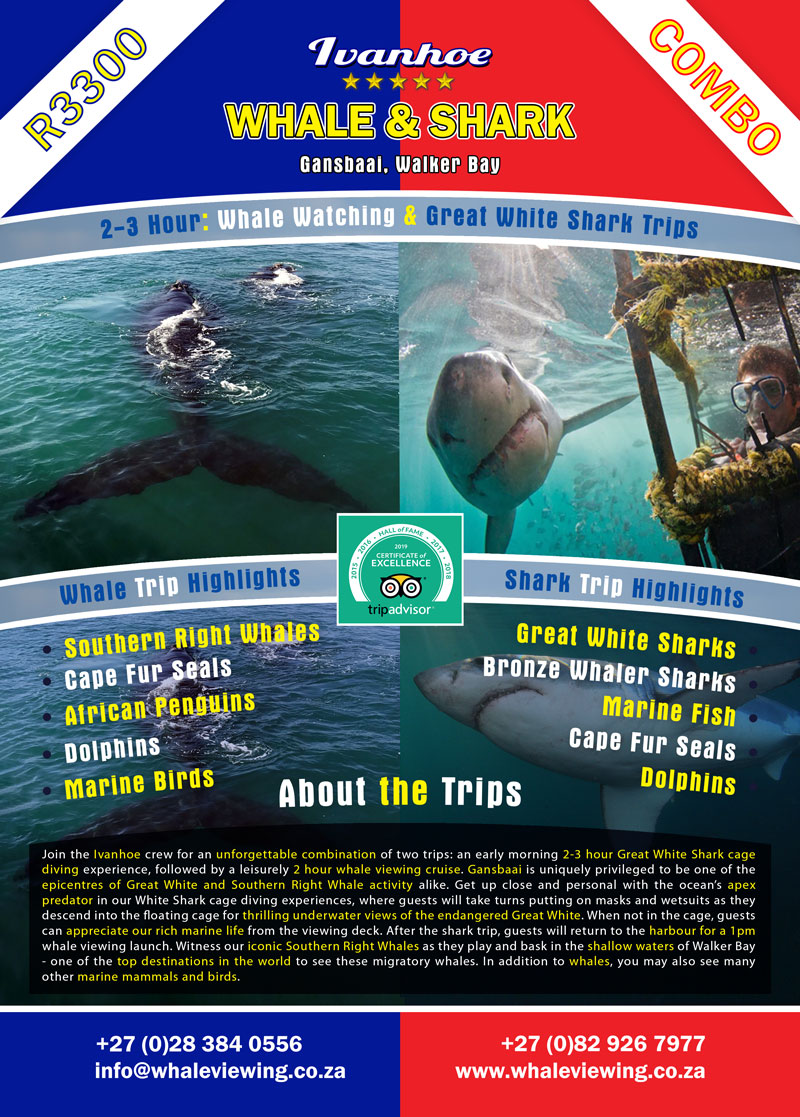 Please contact the team at Ivanhoe Sea Safaris directly for ENQUIRIES.
Follow us on Facebook
TripAdvisor
Instagram